About Us
A practice that dates back to Bronze Age, a technique that runs subtly through Indus valley civilization and a tradition that merges art and culture with human lives, rugs weaving has been the prime trade of our ancestors for countless of generations. This art was introduced to the populous in the year 1988 when M.G. Creations was established at the heart of Panipat which served as the leading producer of Handmade Floor Rugs, Handmade Carpets, Hand Knotted Carpets, Hand Knotted Rugs in the world. We believe in creating a rug that speaks to every individual and is an extension of their inner style. This is personified by our age old motto "weaving your dreams" and we pride ourselves in expressing our customers vision on our hand woven rugs and carpets. Whether you desire hand knotted, hand tufted, flat-weave or shaggy carpets, our expert artisans can envision your style using high end hand-spun wool, silk and cotton to create masterpieces for you beloved indoors or outdoors. A strong bond between our artisans and our customers has enabled us to become a manufacturer, supplier and exporter and ours is one of the very rare companies that allow the customers to fully tailor their rugs, right from their shape, size, colour to even designing their own patterns. So whether you wish for comfy Woolen Carpets, traditional chindi tufted carpets, modern knotted rugs or the ever-lively polyester rugs, our family of 40,000 artisans will weave the carpet of your dreams, such is our promise to you.
Product Range
You name it and we have it! Whether you reside in traditional villas or modern homes, our products are the leading choice where style and comfort are concerned. All our products are easy to clean and require little to no maintenance.
Bath Mats: Soothing outlook and robust design makes our bath mats an essential part of your bathrooms.
Chenille Rugs: A French weaving technique with added flavor from our expert artisans, these rugs speak only of elegance and grace beyond ages.
Chindi Tuffted Carpets: An excellent material that enables full customization of carpets right from their size to colors and weaving patterns. These rugs are an integral part of any modern home.
Cotton/Chindi Rugs: Pure cotton and vibrant colors have been a traditional style followed by our artisans since it was first introduced in our culture around 100 A.D.
Cushion Covers: A fusion of two distinct styles make these cushions memorizing to the very last detail.
Knotted Carpets: The age old technique of hand knotting is elegantly introduced in these carpets that simply take your breath away.
Others: Whether you are looking for festive designs for a special day or wish to design your own carpets, we have you covered!
Polyester Carpets: These rugs are guaranteed to impress you with their new-age patterns and designs.
Poufs: Forget the magic carpet when you can sit on a luxurious throne. These poufs come in all different materials, sizes and shapes.
Prayer Mats: We understand the importance of peace and comfort during the time of prayer. These mats are lightweight and easy to store and carry.
Printed Durries: Now here is a true innovation in the world of rugs. Printing a picture, a logo or lively designs on plain durries makes for one truly striking rug.
Rugs: One rug, 100 styles and 10,000 memories. Such is our approach when creating these masterpieces that come in different materials, shapes and sizes.
Woolen Carpets: Get comfy on these extravagant weaves of wool that makes your room come to life.
Infrastructure
MG Creations offer the widest selection of hand-made carpets and rugs in global market. This feat has been made possible by a team of expert artisans, robust infrastructure, proficient sales team and outstanding customer service. A strong networking within our various branches ensures that our customers views and requests are heard directly by the artisans and carefully delivered at pristine quality. We can also proudly state that we have a 100% satisfactory track record since 1988 and we continue to develop new products that exceed your expectations. Our work ethics and fruitful business relationship with our customers has enabled us to become the leading rugs and carpet provider in the international market.
Why Us?
We add a blend of creativity and tradition to all our products. The range of fabrics used in our rugs adds a touch of style, class, elegance and grace to every customers home. At our core we are gratified artisans and we believe in our age old motto "Weaving your Dreams".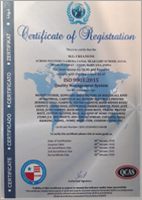 Read More